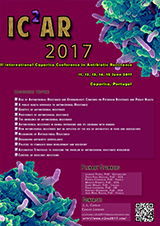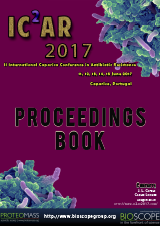 Dear Colleagues and friends,
It is with great pleasure that we announce the upcoming international conference on Antibiotic Resistance, to be held in the Caparica, Portugal on 12-15 June 2017.
In the last years, there is a great concern about the problem of bacterial resistance to antibiotics used in human medicine as well as in veterinary. The use of antibiotics constitutes an important factor for selection of resistance, not only among pathogenic bacteria but also among the commensal ones. Antimicrobial resistance is a major problem in public health due to the possibility in therapeutic failure. Appearance of multiresistant bacteria is probably accompanied by co-contamination of the environment, leading to a major clinical and public health concern within the lifetime of most people living today. The extensive use has heightened concerns about the expression of antimicrobial resistance, which impacts human and animal safety, food safety and environmental exposure. Antibiotic resistance is an emergent problem, and for this reason the WHO appealed for an urgent and concerted action by governments, health professionals, industry, civil society and patients to slow down the spread of drug resistance, limit its impact today and preserve medical advances for future generations. In the latest years much investigation was developed to understand the emergence of the resistance genes and their spread but this fact does not let us to control totally this problem. In this conference an attempt has been made to present the latest research on possibilities to manage this question.
The primary objective of this meeting is to bring together researchers involved in antibiotic resistance prevention and control. The meeting will take an integrated approach to research and it will bring about researchers specializing in different subjects related to antibiotic resistance. We expected to present a universal vision of the importance of antimicrobial resistance in different ecosystems and what can be done about it. During diverse sessions, all aspects related to epidemiology of resistance in animal and zoonotic pathogens, mobile elements containing resistance genes, proteomics of antimicrobial resistance, emerging antimicrobial resistance mechanisms, control of resistant infections, antimicrobial resistance in animal pathogens and its exchange with humans, organizing antibiotic surveillance, policies to stimulate drug development and discovery and alternatives strategies to overcome the problem of antimicrobial resistance worldwide will be discussed.
The congress will be focused on the following topics (your comments are welcome):
Rise of Antimicrobial Resistance and Epidemiology: Concerns on Pathogen Resistance and Public Health
A public health approach to antimicrobial Resistance
Genetics of antimicrobial resistance
Proteomics of antimicrobial resistance
The emergence of antimicrobial resistance in animals
Antimicrobial resistance in animal pathogens and its exchange with humans
How antimicrobial resistance may be affected by the use of antibiotics in food and agriculture
Mechanisms of Antibacterial Resistance
Organizing antibiotic surveillance
Policies to stimulate drug development and discovery
Alternative Strategies to overcome the problem of antimicrobial resistance worldwide
Control of resistant infections
And last, but not least, we have some of the best in the arena:
Laurent Poirel, PhD

University of Fribourg, Medical Department, Fribourg (Switzerland)

David Paul Nicolau, PharmD, FCCP, FISDA

Center for Anti-Infective Research and Development, Hartford (USA)

Patrice Courvalin, PhD

Department of Microbiology Institut Pasteur (France)

Marilyn Roberts, PhD

Department of Environmental and Occupational Health Sciences, University of Washington, Washington (USA)

Gerry Wright, PhD

Michael DeGroote Institute for Infectious Disease Research McMaster University Hamilton, ON (Canada)

David Livermore, PhD

Department of Medical Microbiology, Norwich Medical School, Norwich (UK)

Hartmut Derendorf, PhD

Department of Pharmaceutics College of Pharmacy, University of Florida, Florida (USA)

Jean-Marc Rolain, PhD

International Journal of Antimicrobial Agents, IHU Méditerranée Infection, Marseille (France)
The Keynotes can be viewed here
The Oral Contributions can be viewed here
Yours truly
J. L. Capelo
C. Lodeiro
Conference chairs
On behalf of the organizing and scientific committee
---
Warning for participants
Please note that Exhibition Housing Services, Exhibition Housing Management and Trade Show Housing do not represent the PROTEOMASS Scientific Society nor BIOSCOPE group, nor have PROTEOMASS Scientific Society or BIOSCOPE Group authorized them to use their names or trademarks on information they send out to participants.
MIND!!:Booking must be done directly with the HOTEL. Internet or travel agency bookings do not included meals and social events. See the Venue Registration section for more information.
Booking through the Internet and/or travelling agencies will imply additional cost for meals:
        • 15€/lunch/person/day
        • 22,50€/dinner/person/day
           no social events